The Cochrane Infectious Diseases Group (CIDG) editorial base in Liverpool thanks its readers, authors, referees, and editors for their support and contributions to the CIDG's work throughout 2021. In this end of year newsletter, we reflect on the challenges and achievements of 2021 and plans for 2022.
CIDG Co-ordinating Editor's message 
Just when the CIDG editorial team thought we had everything ship-shape, along comes COVID-19. It's a sign of Cochrane's impact that governments and agencies throughout the world were commissioning systematic reviews on COVID-19 even before the trials had started. We are grateful to you all for us finding our niche in this explosion of evidence: we have published public health reviews, diagnostic reviews, and have focused particularly on challenging the infodemic, with excellent reviews in chloroquine and ivermectin-the latter with an Altmetric score of 9500, and widely quoted in the New York Times and BBC.
At the same time, the CIDG editorial team, CIDG Editors, and contributors have kept the day job running, with a pile of high-quality reviews that we should all be proud of. Hidden in there are amazing diagnostic reviews, a review of probiotics that overturns the findings of the previous edition, and a review of ivermectin in malaria that actually re-analyses the only existing trial properly-correcting for clustering and watching the effect vanish.
The team in the editorial base have separated editorial and support functions to authors well and we remain an exemplary model for Cochrane as the whole organization plans its next phase in the coming years.
This is all your work, the whole team pulling together. You are all part of the best Cochrane enterprise ever!
Thanks to you all! 
Paul Garner, CIDG Co-ordinating Editor (@PaulGarnerWoof)
Do keep in touch with the CIDG. We have an active website here, our overarching programme Research, Evidence and Development Initiative (READ-It) has a great website too, and follow us on Twitter @Cochrane_IDG 


---
Funding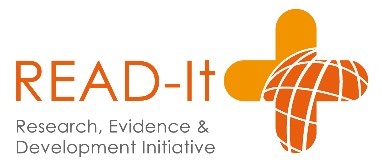 In April 2021, we entered Year 3 as a Research, Evidence and Development Initiative (READ-It) Partner, which is a six-year Foreign, Commonwealth and Development Office (FCDO) funded programme grant (project number 300342-104).


---
Cochrane's future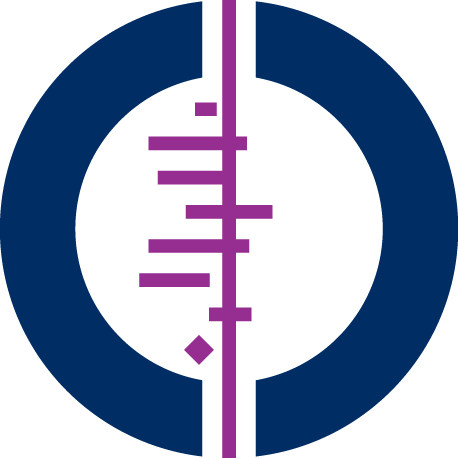 The CIDG is a strongly performing Cochrane Review Group (CRG), and is recognized as such in Cochrane. This is all thanks to the continued, well-placed efforts and expertise of our CIDG Editors, editorial team, authors, and peer  reviewers. However, Cochrane needs fundamental change to remain relevant in the evidence synthesis marketplace, and Cochrane's restructure is still under discussion. Cochrane's Editor in Chief, Karla Soares-Weiser, presented a re-imagining of Cochrane's model for synthesizing evidence (recording can be viewed here). The new Future Cochrane website presents one potential model for the Cochrane community to consider. Information gathered via this website (via the survey), in the Community Engagement Workshops, and collected as part of the Editorial Independence and Efficiency Project will inform a business case to be presented to the Governing Board by the end of December 2021. 
---
Impact factor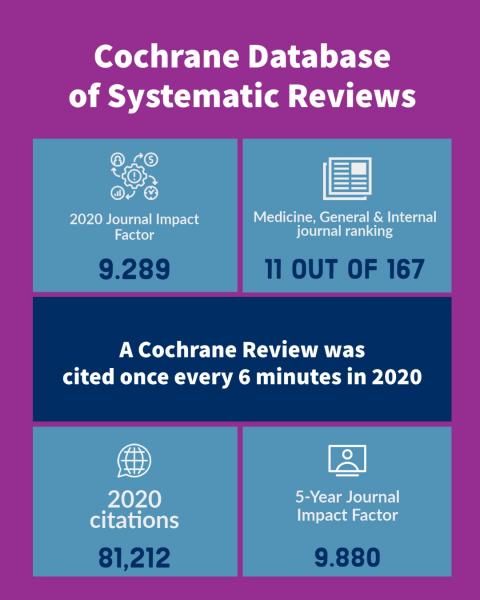 The 2020 Impact Factor (IF) for the CDSR increased from 7.890 to 9.289. This IF is generated from a calculation that involves dividing the number of citations received in 2020 to reviews published between 2018 and 2019 (11,305) by the number of reviews published in 2018 and 2019 (1,217).
The 2020 CRG IF for the Infectious Diseases Group is 7.537 (41 publications cited 309 times). This therefore means that a review published by the Infectious Diseases Group in 2018 and 2019 was cited, on average, 7.537 times in 2020.
The CDSR is ranked 11 of the 167 journals in the Medicine, General & Internal category

In 2020 the CDSR received a total of 81,127 cites to all reviews (published anytime)

The 5-Year journal Impact Factor increased from 7.974 to 9.880



---
CIDG editorial team
At the CIDG editorial base we are committed to creating a positive working environment by recruiting and developing excellent staff; working to ensure equality, diversity, and inclusion across the organization; to develop the leadership and management capabilities of our staff; and to actively support staff engagement and well-being.
In 2021 we said a fond farewell to Rebecca Thomas (CIDG Research Associate) and Nancy Medley (CIDG Research Assistant). We also welcomed a couple of new members to the CIDG team.. 
Marty Chaplin, CIDG Statistical Editor, acts as co-author for systematic reviews with meta-analysis, undertakes research into review methodology, and completes statistical peer review. She became a new Mum in 2021, and graduated with her PhD in Biostatistics. We look forward to welcoming her back to the CIDG editorial base in 2022 after her maternity leave.

Leslie Choi works in the Partnership for Increasing the Impact of Vector Control (PIIVeC) in collaboration with the CIDG. His PhD focuses on entomological data requirements for decision-making. At the CIDG he primarily works on reviews assessing the impacts of a range of vector-control interventions on malaria transmission.

Tilly Fox joined as a Research Assistant in Evidence Synthesis in June 2021, having completed an Integrated Masters in Biological Sciences at the University of Liverpool. With previous experience in molecular diagnostics, she has been utilizing this knowledge to contribute to updating the diagnostic test accuracy review 'Antibody tests for identification of current and past infection with SARS‐CoV‐2', as well as leading the update on the review 'House modifications for preventing malaria'. 

Susan Gould

, joined in November 2020 as a Clinical Research Associate. As well as working on Cochrane reviews she also focuses on work-related to methods of investigating SARS CoV-2 transmission. In 2021, she co-authored the Cochrane Review 'Ivermectin for preventing and treating COVID-19', and a Cochrane editorial on the use of chloroquine or hydroxychloroquine for COVID-19.

Rebecca Kuehn joined as a Research Associate in November 2021. Rebecca attained a Bachelor of Medical Studies and Doctor of Medicine at the University of New South Wales, Australia. She then completed primary care postgraduate clinical training  and is a Fellow of the Royal Australian College of General Practitioners. Rebecca completed a Master of Tropical Medicine and International Health at the London School of Hygiene and Tropical Medicine in 2020. She has undertaken clinical work in The Gambia prior to joining LSTM.

Vittoria Lutje,

 CIDG Information Specialist, continues to provide invaluable assistance with literature searches and systematic reviews. She also led the Cochrane Review on 'Chemotherapy for second-stage human African trypanosomiasis: drugs in use', which was published in December 2021. 

Anel Schoonees,

 based at the Centre for Evidence Based Health Care (CEBHC) in South Africa, assists as an Information Specialist with the HIV portfolio of reviews.

Melissa Taylor, 

Research Assistant, is continuing her work on qualitative evidence synthesis (QES); both in producing reviews on topics such as mass drug administration, tuberculosis active case finding, and appraising how QES are currently used in global guidelines. She is also producing a review on growth monitoring and promotion for children under five in low- and middle-income countries.
Paul Garner (Co-ordinating Editor), Dee Walshe (Managing Editor), Philomena Hinds (Editorial Assistant), and Christianne Esparza (Administration Assistant) complete the CIDG team.
We are grateful to our CIDG Editors and Specialist Advisors who provide invaluable contributions to the CIDG. You can read about the CIDG Editors in the 'Meet the Editor' series. We are also extremely appreciative of the comments received from peer reviewers and comment contributors. 
2021 update
CIDG's response to the COVID-19 pandemic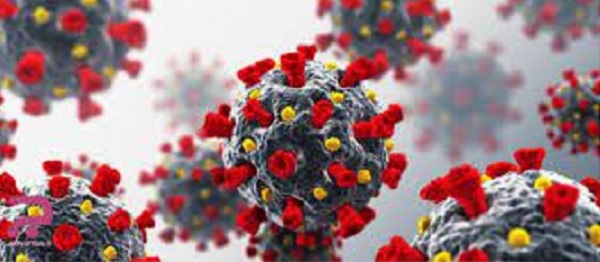 The CIDG continues to contribute to Cochrane's COVID-19 response. We've has contributed to editorial processing of several COVID-19 titles, in collaboration with the Cochrane Central Editorial Service, including diagnostic test accuracy, intervention, and rapid reviews.
---
Contribution to COVID-19 guidelines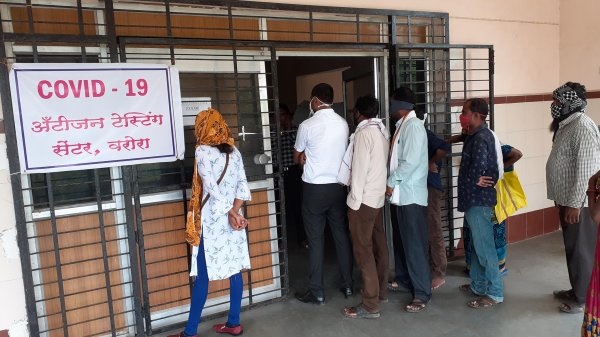 The explosion of research evidence in COVID-19 and the demand for answers has really tested the research evidence to policy and practice pipeline. This has been a particular challenge in low- and middle-income countries.
Skilled networks linked to the Cochrane Infectious Disease Group (CIDG) kicked into action. In India, researchers and clinicians treating COVID-19 patients collaborated to develop national India guidelines (COVID Guidelines India), led by Professor Priscilla Rupali from the Christian Medical College in Vellore. Professor Paul Garner was the guidelines methodologist and Dr Tom Fletcher chaired the External Advisory Panel. This formal process arose out of an earlier project developing national clinical guidelines for extrapulmonary TB with the Government of India and CIDG funded by FCDO.
CIDG reviews have informed a number of COVID-19 guidelines, including global and national guidelines. In particular:
---
Challenging misinformation
The CIDG has worked hard in challenging the COVID-19 infodemic. The Cochrane Review on chloroquine and hydroxychloroquine was published in February 2021, and was accompanied by a Cochrane editorial outlining the history of this drug and what led to the chaotic and confusing situation with the assessment of chloroquine and hydroxychloroquine efficacy. The review showed that hydroxychloroquine is ineffective for COVID-19, at a time when global demand was at its highest for the drug.
Another review looked at an antiparasitic drug, ivermectin, for COVID-19. Some advocacy groups used data from trials now shown to be fake to push for its widespread use. The Cochrane Review authors showed there really was no evidence to date to back the extraordinary claims of benefit made for this drug, and the review was quoted widely worldwide in newspapers and on Twitter to counter the erroneous claims that it should be used. Notably, this review has the highest Altmetric score of any Cochrane Review published to date.
---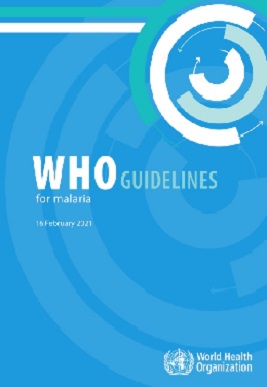 WHO malaria guidelines
In February 2021, the WHO Guidelines for malaria were published, which cites 20 CIDG reviews.
This first version of the guidelines is a compilation of existing WHO recommendations on malaria and supersedes two previous WHO publications: the Guidelines for the treatment of malaria, third edition and the Guidelines for malaria vector control.
---
Contribution to WHO tuberculosis guidelines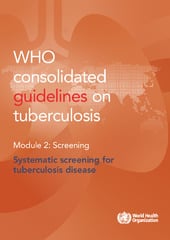 The WHO consolidated guidelines on tuberculosis Module 2: Screening - Systematic screening for tuberculosis disease were published. Two Cochrane Reviews informed these guidelines:
Shapiro AE, Ross JM, Yao M, Schiller I, Kohli M, Dendukuri N, Steingart KR, Horne DJ. Xpert MTB/RIF and Xpert Ultra assays for screening for pulmonary tuberculosis and rifampicin resistance in adults, irrespective of signs or symptoms.
Vonasek B, Ness T, Takwoingi Y, Kay AW, van Wyk SS, Ouellette L, Marais BJ, Steingart KR, Mandalakas AM. Screening tests for active pulmonary tuberculosis in children.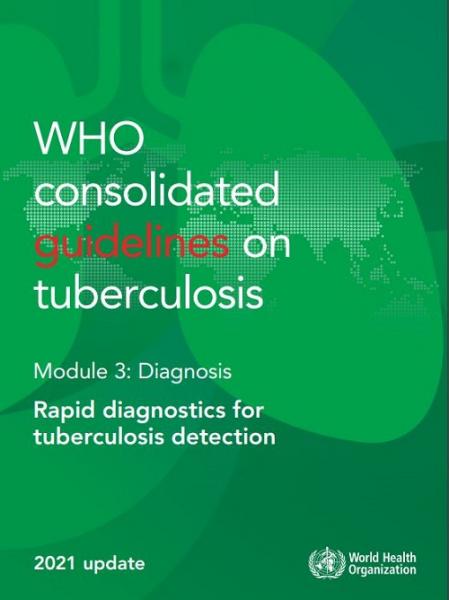 In addition, the WHO consolidated guidelines on tuberculosis Module 3: Diagnosis - Rapid diagnostics for tuberculosis detection (2021 update) were published. These guidelines were informed by the following Cochrane Reviews:
Bjerrum S, Schiller I, Dendukuri N, Kohli M, Nathavitharana RR, Zwerling AA, Denkinger CM, Steingart KR, Shah M. 

'

Lateral flow urine lipoarabinomannan assay for detecting active tuberculosis in HIV-positive adults

'; an update of this r

eview is in progre

ss.

Zifodya JS, Kreniske JS, Schiller I, Kohli M, Dendukuri N, Schumacher SG, Ochodo EA, Haraka F, Zwerling AA, Pai M, Steingart KR, Horne DJ. Xpert Ultra versus Xpert MTB/RIF for pulmonary tuberculosis and rifampicin resistance in adults with presumptive pulmonary tuberculosis.
Kohli M, Schiller I, Dendukuri N, Yao M, Dheda K, Denkinger CM, Schumacher SG, Steingart KR. Xpert MTB/RIF Ultra and Xpert MTB/RIF assays for extrapulmonary tuberculosis and rifampicin resistance in adults.
Haraka F, Kakolwa M, Schumacher SG, Nathavitharana RR, Denkinger CM, Gagneux S, Reither K, Ross A. Impact of the diagnostic test Xpert MTB/RIF on patient outcomes for tuberculosis.
Nathavitharana RR, Lederer P, Chaplin M, Bjerrum S, Steingart KR, Shah M. Impact of diagnostic strategies for tuberculosis using lateral flow urine lipoarabinomannan assay in people living with HIV.
---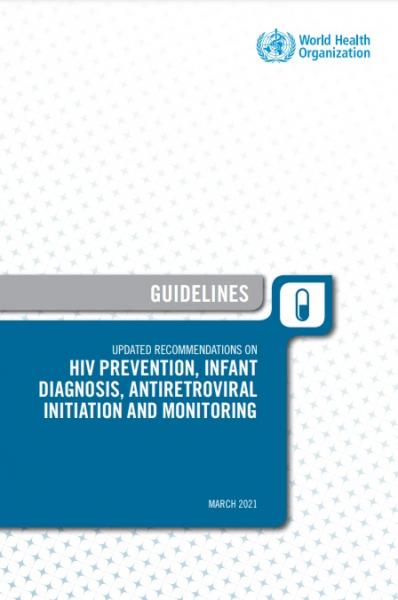 WHO HIV guidelines
Two Cochrane Reviews, led by CIDG Editor, Dr Eleanor Ochodo informed the 'WHO Updated recommendations on HIV prevention, infant diagnosis, antiretroviral initiation and monitoring' (published March 2021). The reviews were 'Point‐of‐care viral load tests to detect high HIV viral load levels in HIV‐positive people on antiretroviral therapy' and 'Point‐of‐care tests detecting HIV nucleic acids for diagnosis of HIV infection in infants and children aged 18 months or less'.
In addition, the WHO 'Consolidated guidelines on HIV prevention, testing, treatment, service delivery and monitoring: recommendations for a public health approach' were informed by five Cochrane Reviews:
---
Other news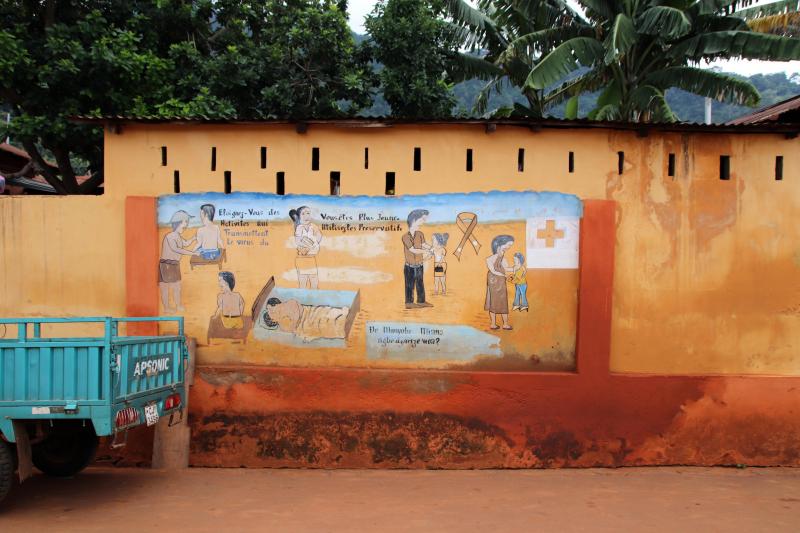 Qualitative evidence synthesis (QES)
What isn't clear to researchers and those commissioning research studies is whether qualitative research should be updated. An author team, including CIDG Editors Dr Anke Rohwer, Professor Sandy Oliver, and Professor Paul Garner, updated a qualitative synthesis on studies around taking antiretroviral treatments in Africa. Their updated review was published in PLOS One, and you can read the LSTM news story.
In addition, the CIDG published two QES Cochrane Protocols in 2021: 'Community views on active case finding for tuberculosis in low- and middle-income countries: a qualitative evidence synthesis' and 'Rapid molecular tests for tuberculosis and tuberculosis drug resistance: provider and recipient views'. We look forward to publishing our first QES review in 2022!
Special Collection on tuberculosis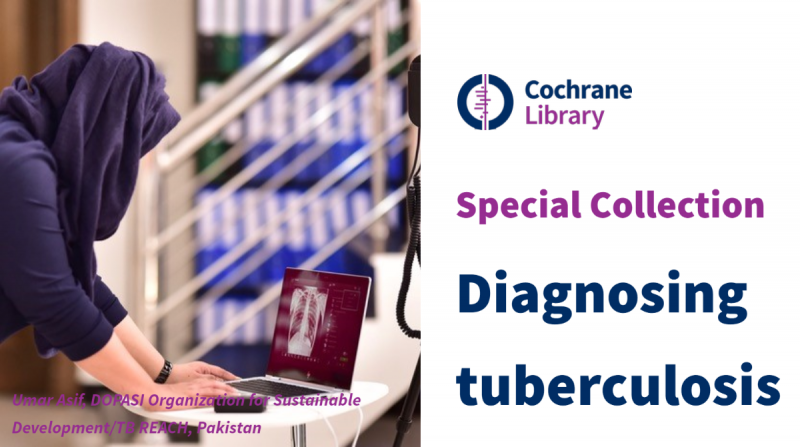 The Cochrane Special Collection on 'Diagnosing tuberculosis' was updated in March 2021.
This Special Collection, curated by Cochrane contributors and members of the WHO Global Tuberculosis Programme, includes Cochrane Reviews from Cochrane Infectious Diseases and other systematic reviews from international teams.
It highlights how Cochrane evidence contributes within a wider landscape of tuberculosis evidence and guidelines, and will be updated again in early 2022.
---
Cochrane reviews and protocols in 2021 
As of December 2021, the CIDG published 10 new reviews, 11 review updates, and 6 protocols, which are listed below. Click each title to access the full-text open access article.
New reviews
Updated reviews
Ejemot-Nwadiaro RI, Ehiri JE, Arikpo D, Meremikwu MM, Critchley JA.

Hand

‐

washing promotion for preventing diarrhoea

.



Kohli M, Schiller I, Dendukuri N, Yao M, Dheda K, Denkinger CM, Schumacher SG, Steingart KR.

Xpert MTB/RIF Ultra and Xpert MTB/RIF assays for extrapulmonary tuberculosis and rifampicin resistance in adults. Listen to the Cochrane podcast here.


Blanshard A, Hine P. Atovaquone‐proguanil for treating uncomplicated Plasmodium falciparum malaria.



Zifodya JS, Kreniske JS, Schiller I, Kohli M, Dendukuri N, Schumacher SG, Ochodo EA, Haraka F, Zwerling AA, Pai M, Steingart KR, Horne DJ.

Xpert Ultra versus Xpert MTB/RIF for pulmonary tuberculosis and rifampicin resistance in adults with presumptive pulmonary tuberculosis.


Struyf T, Deeks JJ, Dinnes J, Takwoingi Y, Davenport C, Leeflang MMG, Spijker R, Hooft L, Emperador D, Domen J, Horn SR A, Van den Bruel A. Signs and symptoms to determine if a patient presenting in primary care or hospital outpatient settings has COVID‐19. Featured review on Cochrane.org. Listen to the Cochrane podcast here.


Islam N, Ebrahimzadeh S, Salameh J-P, Kazi S, Fabiano N, Treanor L, Absi M, Hallgrimson Z, Leeflang MMG, Hooft L, van der Pol CB, Prager R, Hare SS, Dennie C, Spijker R, Deeks JJ, Dinnes J, Jenniskens K, Korevaar DA, Cohen JF, Van den Bruel A, Takwoingi Y, van de Wijgert J, Damen JAAG, Wang J, McInnes MDF. Thoracic imaging tests for the diagnosis of COVID‐19.


Dinnes J, Deeks JJ, Berhane S, Taylor M, Adriano A, Davenport C, Dittrich S, Emperador D, Takwoingi Y, Cunningham J, Beese S, Domen J, Dretzke J, Ferrante di Ruffano L, Harris IM, Price MJ, Taylor-Phillips S, Hooft L, Leeflang MMG, McInnes MDF, Spijker R, Van den Bruel A. Rapid, point‐of‐care antigen and molecular‐based tests for diagnosis of SARS‐CoV‐2 infection.


Gleave K, Lissenden N, Chaplin M, Choi L, Ranson H. Piperonyl butoxide (PBO) combined with pyrethroids in insecticide‐treated nets to prevent malaria in Africa. Read the LSTM news story here.


Monk EJM, Abba K, Ranganathan LN. Anthelmintics for people with neurocysticercosis. 


Shah MP, Hwang J, Choi L, Lindblade KA, Kachur SP, Desai M. Mass drug administration for malaria. Read the LSTM news story here.


Bergman H, Henschke N, Hungerford D, Pitan F, Ndwandwe D, Cunliffe N, Soares-Weiser K. Vaccines for preventing rotavirus diarrhoea: vaccines in use. Read the LSTM news story here.
New protocols   

---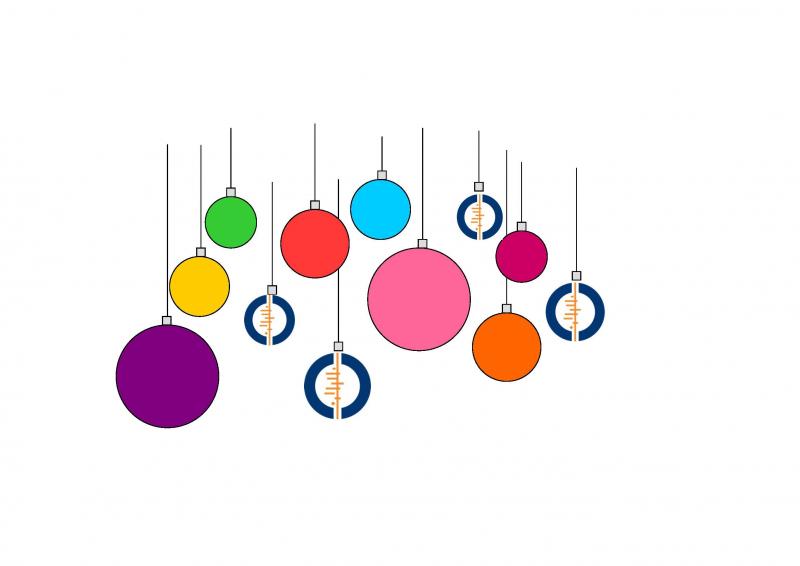 The CIDG editorial base will close 5pm Tuesday 21st December and will re-open Tuesday 4th January 2022.
We look forward to sharing more reviews with you in 2022.
With best wishes from the CIDG editorial team