In this 'Meet the CIDG staff' feature, we talk with Dr Rebecca Kuehn.
Rebecca joined the CIDG editorial base in Liverpool in November 2021 as a Research Associate. She attained a Bachelor of Medical Studies and Doctor of Medicine at the University of New South Wales, Australia. She then completed primary care postgraduate clinical training, is a Fellow of the Royal Australian College of General Practitioners, and completed a Master of Tropical Medicine and International Health at the London School of Hygiene and Tropical Medicine in 2020. She undertook clinical work in The Gambia prior to joining the CIDG.
Could you describe where you currently work and what you do there?
I am a Research Associate at the CIDG based at the Liverpool School of Tropical Medicine (LSTM). I am involved in writing Cochrane systematic reviews in collaboration with co-authors from around the world concerning topics of infectious diseases, especially neglected tropical diseases that greatly impact low- and middle-income countries (LMICs). For example, a recent Cochrane publication in which I was involved concerned the use of cephalosporin antibiotics in people with typhoid fever.
I also undertake systematic reviews that contribute to the evidence informing the production of health guidelines for the World Health Organization (WHO). In 2022 our group was involved in evidence synthesis for cystic echinococcosis and mpox guidelines.
I am also involved in teaching critical appraisal and systematic review skills to students at LSTM.
What is a typical day for you?
On a typical day I cycle into work (and try not to freeze to the handlebars in Winter) and get to work on the systematic reviews I am working on, or plan and conduct any upcoming teaching. There may be meetings with co-authors on different reviews or discussions with other researchers in the CIDG about their reviews to help solve problems and keep forging ahead! And there is always a coffee or tea break with the team :)
What prompted you to work in this area?
I have trained as a General Practitioner then pursued Masters study in tropical medicine and international health, followed by clinical work in West Africa. These experiences introduced me firsthand to the health challenges facing people living in LMICs both academically and clinically. I found neglected tropical diseases in particular to be extremely interesting and challenging and realised the vital importance of sound evidence to inform health policies and treatment decisions in this field. So here I am!
What are the major challenges that still remain in your field?
Major challenges can be needing to develop or evolve methods in evidence synthesis in areas where high-quality evidence can be lacking for a high priority research area, and to ensure reviews are up-to-date and produced in a timely manner.
How did you first hear about Cochrane?
I first heard about Cochrane in university at medical school, and throughout postgraduate training.
What is the most rewarding aspect of being involved with Cochrane?
The most rewarding aspect of being involved in Cochrane is the opportunity to work with so many brilliant and lovely people all contributing to high-quality systemic reviews around the world.
Who (or what) has been the biggest influence on your career to date?
I try and think about the things I learn and experience that then guide my career as I go. I have had some excellent clinical tutors, have a supportive family, and also been influenced by the wonderful CIDG Liverpool team.
Please list three words you would associate with Cochrane.
What A Relief (that the organization exists!)
But also, collaboration, rigorous and accessible.
What do you do in your spare time?
I have a little camper van and like to head off to go hiking and exploring. The van hasn't let me down yet, except when it froze over during Winter but I had some helpful CIDG colleagues come over and dig it out from under the snow and ice!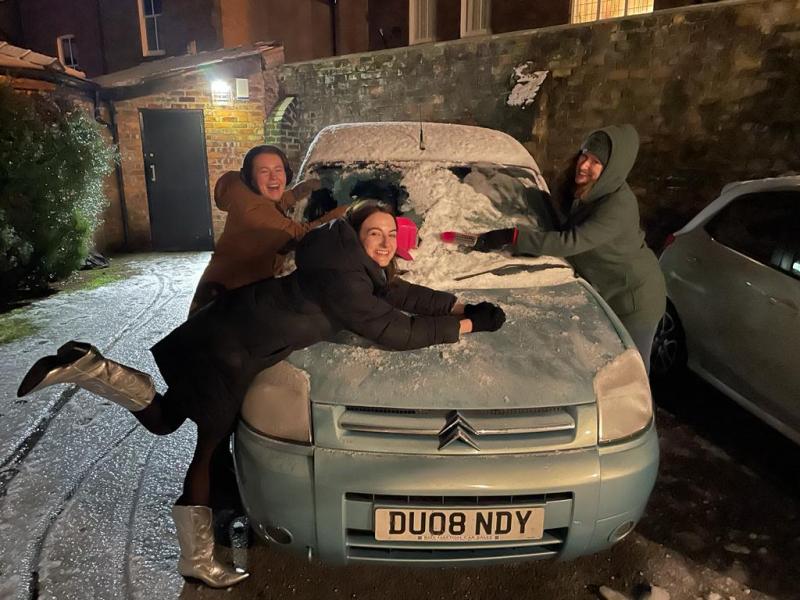 The CIDG editorial base is located at the Liverpool School of Tropical Medicine  in Liverpool, UK. Over 600 authors from some 52 countries contribute to the preparation of the Cochrane Reviews. They are supported by an international team of Editors, each with topic or methodological expertise. 
The CIDG's main areas of work are on determination of the effects of interventions on the prevention or treatment infectious diseases of relevance to the United Nations Sustainable Development Goals, particularly malaria, tuberculosis, HIV/AIDS, and neglected tropical diseases. The aims of the CIDG are to impact on policy and research in tropical diseases through the production of high quality and relevant systematic reviews, and to lead developments in review quality improvement and effective dissemination of findings.