In this 'Meet the CIDG staff' feature we chat with Tilly Fox, who joined the CIDG editorial base as a Research Assistant in June 2021. In June 2022, Tilly was appointed CIDG Review Synthesis Delivery Specialist, responsible for guiding Cochrane Reviews through the production and publication cycle and providing support to review authors. Tilly has experience as a Cochrane author for both intervention reviews and diagnostic test accuracy reviews, and is actively working as an author on several titles.
Could you describe where you currently work and what you do there?
I work as the Review Synthesis Delivery Specialist at the CIDG, based in Liverpool. My role is focussed on leading and contributing to Cochrane reviews, as well as ensuring the development of new high-priority research questions that can be addressed through reviews. My recent Cochrane publications include 'House modifications for preventing malaria' and 'Antibody tests for identification of current and past infection with SARS‐CoV‐2'.
What is a typical day for you?
On a normal day I will be working with my co-authors on writing Cochrane reviews, as well as liaising with our network to develop new review topics and assist with disseminating our completed publications and outputs.
What prompted you to work in this area?

At university I became very interested in evidence-based healthcare, particularly in the field of tropical medicine as I had completed my Master's degree in Thailand. I joined the team here as I wanted to continue to be involved in research and explore topics of tropical medicine and infectious disease.
What are the major challenges that still remain in your field?

New methods in evidence synthesis are constantly evolving to deal with new study designs and features, and it is a challenge both to ensure that these methods are updated and that review authors can understand and apply these.
How did you first hear about Cochrane?

Cochrane was a word that was thrown around during university when thinking about research projects, but I don't think I fully understood the systematic and structured concept of Cochrane until I joined the team here.
What is the most rewarding aspect of being involved with Cochrane?

I love being able to work with such interesting co-authors from all over the world. I am challenged to learn something new every day in my job, whether that be new methods or new topic content, and it's really rewarding to see that knowledge come to life in reviews.
Who (or what) has been the biggest influence on your career to date?

When I first started university in Liverpool, I read a lot of books on global health, and tried to sign up to as many modules as possible at LSTM. Both inspired me a lot as a student. One of my favourite books at the time was The Health Gap by Michael Marmot, which gave me real insight into the concept of health inequalities and demonstrated a whole area of work that is needed to tackle these issues. I hope that the work I do now and in the future is contributing in some way to this field. 
Please list three words you would associate with Cochrane.

Rigorous, pioneering, reliable.
What do you do in your spare time?
I like to spend as much time outdoors as I can at the weekends, usually walking or, when I'm feeling brave, wild swimming. Weeknights are more relaxed and typically involve cooking and reading.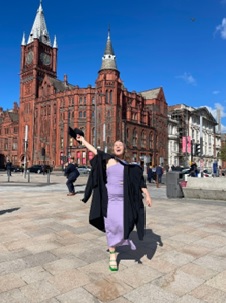 The CIDG editorial base is located at the Liverpool School of Tropical Medicine  in Liverpool, UK. Over 600 authors from some 52 countries contribute to the preparation of the Cochrane Reviews. They are supported by an international team of Editors, each with topic or methodological expertise. 
The CIDG's main areas of work are on determination of the effects of interventions on the prevention or treatment infectious diseases of relevance to the United Nations Sustainable Development Goals, particularly malaria, tuberculosis, HIV/AIDS, and neglected tropical diseases. The aims of the CIDG are to impact on policy and research in tropical diseases through the production of high quality and relevant systematic reviews, and to lead developments in review quality improvement and effective dissemination of findings.